Meet The MENT Elder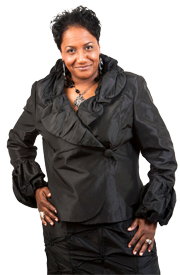 Elder Shajuan E. Williams is the wife of Bishop Jerome L. Williams, Founder of Changing Hearts International and Pastor of New Testament Church.
She is a woman of excellence, a committed wife, and loving mother. She walks gracefully in the purpose of God for her life and she labors in ministry beside her husband, where the heartbeat of the ministry is a passion for souls. She has learned and teaches the importance of faithfulness and obedience to leadership and the pastoral vision.
Elder Williams delivers the truth of Jesus Christ in a dynamic and energetic way. It is her heart's desire to see women empowered and equipped for ministry in the home as virtuous helpmates and in the kingdom. As a leading lady, she encourages, educates, and uplifts the women of God, giving them strength for their daily Christian walk.
As a young woman, she was diagnosed with a serious heart condition that should prohibit her from strenuous activities, but she will not be dissuaded by doctor's reports. In fact, her own personal testimony of healing has caused her faith to soar, proclaiming that God is still a miracle-working God for all who will believe.
When speaking, Elder Williams heart is always towards the lost. Every work, every message, every motive is to see others have an encounter with Jesus Christ. She truly believes that in His presence is fullness of joy; and at His right hand there are pleasures forevermore. (Psalms 16:11). It is her desire to be a laborer in the end-time harvest, and to see a generation empowered by the Holy Spirit. While serving as first lady she has birthed several ministries including Sister-to-Sister, The PSALMS singles ministry, Senior's First Ministry, and the Women's Fellowship. And Ladies' Night Out where they fellowship and promoted businesses, sister- hood. Elder is the founder of Daughter of Destiny celebrating 11-years of ministering to women all over the world. Our Elder love to stay busy she owns a interior design called Shajuan's Interior by Design www.ShajuansInteriorbyDesign.com she loves working for and with people where every she goes. Elder was license by the late Bishop Charles H. Bowen as a Minister in 1997 and was license as a Elder by Bishop Jerome L. Williams in 2007 and ordained as a Executive Pastor on January 2010.
While obligations to ministry are a priority, Elder Williams ensures that her other covenant relationships are well maintained. She faithfully serves as her husband helpmate and is an involved mother to her son; Jerrod L. Williams.